Reviews for Community Chiropractic Care

What Our Patients Say
At Community Chiropractic Care we love when patients share with us their feedback and comments after chiropractic care. Please read our patient reviews to see what our patients have achieved through their tailored treatment plans with us. Share your stories too! Click here to send us your feedback so that we can help to spread the word about the benefits of natural care. For more information or to schedule an appointment call or email us today.

Facebook Review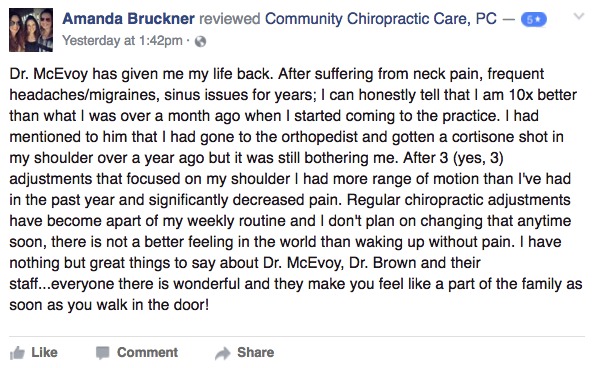 ---
Helpful, Thorough & Professional
Dr. McEvoy was extremely helpful, thorough, and professional. He took the time to listen to my pain issues and help me. He also went out of his way to make sure that I got an MRI of my lumbar spine. He kept in touch with me every step of the way and I look forward to working with him until I am completely recovered. Highly, highly recommend.
Ellen B.
A Great Eye-Opening Experience!
My apprehensions of visiting a chiropractor were put at ease after meeting Dr. McEvoy. All the "bad" thoughts I had of chiropractic medicine were put aside after his explanation as to what a chiropractor does. I had immediate relief of most of my severe back pain and I am sure after a few visits the pain that I have will subside. A great eye-opening experience for someone who thought he knew everything!
Thomas C.
Great Listener and Very Understanding
Great listener, very understanding and explains into detail what can be done to resolve or help decrease discomfort.
Felicia R.
Patient-centered Care
Community Chiropractic Practice is a knowledgeable, professional facility that has shown patient-centered care and improvement of health to be on its agenda. That means a lot these days. The office is clean and provides a great environment for healing.
Dina N.
Very Impressed
I am very impressed with the friendliness and care provided by the doctors and the staff. It was recommended that I come to see Dr. McEvoy and Dr. Clancy for my issues. I am so happy that I did.
Renado J.
Very Friendly and Compassionate
All the people are very friendly very compassionate as well as sympathetic to your pain. My doctor was very clear in his explanation and what was going on and why there was a need for good chiropractic care. When he felt like I needed something more he did not hesitate to recommend me to another doctor I really appreciated that. I look forward to going to my next visit.
Lavone P.
Pleasant, Friendly and Competent
The staff was wonderful – pleasant, friendly and competent. The doctor required x-rays BEFORE treating me which was absolutely the right thing to do. I was very confident that the treatment plan that Dr. McEvoy would develop for me would be cautious and effective.
Dennis M.
I Feel 10 Years Younger
They are very welcoming and helpful and made me feel 10 years younger right after I was adjusted.
Saul R.
The Perfect Blend of Technology and Human Touch
The chiropractors already took the time to get to know myself and my story. They make the effort for conversation when I am there and show genuine care about your life above and beyond the doctor appointment. This office is the perfect blend of technology (ease of appointment setting, submitting forms online, etc) and the human touch! I enjoy coming here.
Jesslyn R.
I Got Superior Treatment
Dr. McEvoy and his staff truly went above and beyond to help me. Everything was properly explained and I felt like I got superior treatment because they wanted to make my first visit a wonderful experience which it was. They even went as far as texting me to check in and emailing me a stretching program to help with my area of need. I will be a regular going forward for sure.
David M.
Letter of Gratitude
Dear Dr. McEvoy, I wanted to send you this letter to share with you my experience at your practice and the effect it's had on me and my quality of life. I've had chronic and progressive lower back pain for over 12 years. Obviously in that time I've been seen by several orthopedics and chiropractors. Fortunately, I'm not a surgical candidate so orthopedics only advice was to send me to physical therapy for several weeks following an episode. This is a very reactive approach and I'm not even sure physical therapy helped alleviate the short term pain or if it was just healing over time. I've also seen several chiropractors over this time both reactively following an episode and proactively to stay ahead of these flare ups. Neither worked very well so I've become accustomed to a chronic lower back pain threshold of 4-5 out of 10. READ MORE
I was referred to you back in December of 2013 and as you could imagine I was very reluctant and skeptical to go down this path again. There were several people in the area that highly recommended you so I figured I had nothing to lose. You personally gave me a very detailed initial consult which put me at ease and I felt assured that you were very skilled, caring and knowledgeable. My treatments are very targeted to my diagnosis and pain and the visits are very pleasurable and efficient. Long story short, my current pain threshold is 0-1 since January of 2014! That's down from a 4-5 chronic pain level which I lived with for over decade! All the things that used to cause me discomfort and at times tremendous pain are all now not only tolerable but an afterthought, (i.e.) skiing, ice skating, weightlifting, yard work and most of all rolling around and playing with my 2 young daughters. Thank you Dr. McEvoy and your staff in returning me to a pain free quality of life! Best Regards, James D.
Competent Chiropractic Care
I was very nervous about going to a new chiropractor, which is why I put off going to one since I've moved to New York. Everyone in this office was so helpful and so patient in talking with me and explaining how everything from payment to visits to treatment plans would be done. The doctor explained everything going on with me before he did any treatment and was very thorough in his evaluation of my condition, stopping and making sure that I didn't have any questions whenever we got to a new step of the treatment plan. I would recommend that people give this place a try when they are looking for competent chiropractic care.
Emily M.
Helpful and Accommodating
Dr. McAvoy was very knowledgeable but I just want take this time and add that the staff at this facility is by far the best I've seen in a very long time. They are helpful and accommodating to the patient's needs.
Mateen B.
Genuinely Friendly and Helpful
Everyone is genuinely friendly and helpful! The front girls greet you with a smile and I was seen within a couple minutes. All my questions are answered and explained in a way that I understand everything. Thank you for the excellent patient care you provide. It really does inspire me to continue care in your practice!
Bryan C.
I Wouldn't Trust My Back to Anyone Else
I just want to take this opportunity to thank Dr McEvoy and the entire staff at Community Chiropractic Care. I walked into your office in excruciating pain and you all took such wonderful care of me!!! You were so patient with me and explained the reasons for my pain and how you would be treating me. Since coming here 90% of my pain has been alleviated!! And I have complete trust in you guys and what you do here!! I have the proof of my daughter who, before coming to you guys was in horrible pain. Not anymore!! She's doing great!!! I wouldn't trust my back (spine) to anyone else but your great team!!!
Amy N.
Amazing Team
Amazing team, welcoming, helpful and caring… Doctors really care how you feel and do. I will complete my treatment here and will highly recommend it everyone!
Esma S.
Superb
My first experience with Dr. McEvoy and his staff was superb; I felt very comfortable and heard. I look forward to continuing my experience with them.
Sarah N.
Great Experience
Very nice staff, clean office, Dr. McEvoy was straight forward about my injury and what needed to be done to correct it. Overall great experience.
Crystal W.
Fantastic
I was a little skeptical when I first walked in because of how open the facility is, but every staff member is so wonderful that I felt comfortable right away. I am extremely happy I found this place & Dr. McEvoy is fantastic.
Annmarie G.
Professional
Dr McEvoy is very professional, pleasant and thorough. He clearly explained everything to me after viewing my xrays in a way that was easy to understand. I'm confident in his expertise! Jennifer H.
Phenomenal
The doctor was very knowledgeable and thorough. The entire staff was efficient and provided phenomenal customer service which will always make me a customer for life. Jaclyn C.
Recommend Highly!
Very professional and the staff are great! The chiropractic adjustment are done perfectly. Nice clean comfortable office. I recommend highly. James B.
So Greatful!
I am so grateful to have found Dr. McEvoy and Community Chiropractic. I truly felt comfortable and confident in my care. He listened to my current pains and my current plan has improved my mobility tremendously. Dr. McEvoy has made this process easy and effortless, leaving me with no worries or fears. Melissa R.
Great Chiropractor
Dr. McEvoy is a great chiropractor and I would recommend him to all of my friends. He really listens and tries to help you as much as he can. I had mid back pain and with his help, it is practically gone! Not only is he a great chiropractor, but also he is a genuinely good person and very confident with his chiropractic skills. Christian A.
Love!
I love everything about Community Chiropractic Care. Very friendly staff and a pleasant environment. I am in and out in no time. Audrey M.
Caring Environment
Feel confident that the specific protocols chosen by my doctor will help me feel better and function well in my daily activities. Feel comfortable…caring environment..not rushed as in other practices I had experienced. Thanks so much! Bruce E.
Excellent
Thank you for your patience. The heat treatment was excellent and made me feel very good. It helped a lot. Hope I will be able to stand on my own next time. Everand B.
Definitely Recommend
Loved the place, people & my practitioner. Would definitely recommend this location to others without a doubt. Tausif R.
Thank Them With All My Heart
I was welcomed in without an appointment they took me right away because I was in pain. I felt better with in a couple of days considering I was in pain 5 days before I walked in. I thank them with all my heart for the service they gave me. Nicholas D.
Amazing
Everyone in the office is amazing, as soon as you walk in the door you're welcomed, I've only been there a few times and everyone knows my name and I know theirs, they're just amazing. I recommend everyone to go there! Amanda P.
Very Happy
I was very happy with the staff and the service I received. I will recommend this office to everyone that needs help with their back. Sean H.
Excellent Experience
I have had an excellent experience so far and the staff is welcoming and friendly and they really know their stuff. I have the utmost confidence in all of them. Jennifer K.
The Right Choice
At my first visit I knew I made the right choice to come to this office. Not only did Dr. Robert McEvoy make me feel amazing and treat me with respect, I felt like the staff knew me for years. I would highly recommend family and friends to this office without any questions asked. God Bless everyone at this office. Edwin A.
The Best
My lower back has never been better. Dr. McEvoy and Dr. Brown are very thorough and have gone beyond just treating my lower back pain. They have addresses by fibromyalgia symptoms to a point that I have not had to take as much Tylenol or muscle relaxants. I have seen a very big improvement in my fibromyalgia symptoms. The office work flow is extraordinary, little wait time, highly organized in a pristine environment. The staff treats people like family. Best chiropractors ever. I've been to many chiropractors, they are by far the best! Joseph N.
Feel Cared For
As always, I felt very cared for. Despite seeing many patients daily, I always feel that Dr. Brown has been waiting just to see me. My therapy and treatments have helped me live more normally and experience less pain. Josephine G.
Greeted by Name
Dr. McEvoy's office is very organized and clean. Whenever I walk in I am greeted by name and with a big smile. The office staff is so welcoming. Dr. McEvoy is professional, but he also has a great sense of humor. I would highly recommend Dr. McEvoy and his wonderful staff for any chiropractic needs. Deborah B.
Highly Recommend for Accident Care
Since my accident, I've been coming to the chiropractic office. Since that time my back pain from the accident has improved. The doctors at the chiropractic office are professional, warm and caring. I would highly recommend this chiropractic office. John P.
Outstanding Chiropractor
Every visit with Dr. Brown is a positive experience. She takes the time to assess your condition and tailors treatment accordingly. After several visits I am back to all athletic activities with no pain, which I never thought was possible. Dr. Brown is an outstanding chiropractor who cares about her patients. The staff is friendly and professional. The office is clean and pleasant. Brigitte Z.
Personal Best Swim Times
Dr. Brown made such a huge difference, I was able to swim with more ease, comfort and increased flexibility. It resulted in three personal best times. I love Dr. Brown! Jacqueline Z.
Professional and Welcoming
Dr. McEvoy has excellent bedside manor, which is a dying skill in this profession. The staff is courteous, professional and very welcoming. You are never rushed and all concerns are heard and dealt with in a timely fashion. Nikka M.
Best Chiropractor I Have Ever Seen
I have been to 4 different chiropractors over the past few years and Dr. Brown is the best chiropractor I have ever seen. I have been having debilitating migraines for months and after a few visits with Dr. Brown I haven't had a single headache. I would and do recommend her and Community Chiropractic Care to anyone who has headaches, neck pain, or just needs a tune up. Kristin
Highly Recommend
It was my first visit to a chiropractor and I was very surprised at the professionalism of everyone in the office. My negative thoughts of what a chiropractor was were put to rest. I recommend Dr. McEvoy. Katherine S.
Amazing
Having worked with Dr. Robert McEvoy in the past for my back, there is no question that I would seek him out again. The staff is amazing! Nicole and Jackie are so pleasant. They greet you with a smile and ask how you are – so personable and professional. Stephanie and Katie do the same and immediately set you up and continuously monitor your treatment. Lastly, Dr. Brown, who introduced herself the first day, greets, inquires about my status and treats me if Dr. McEvoy is occupied with someone else. No words can truly describe the total care that Dr. McEvoy offers. He is skillful, patient, understanding and very professional in all aspects of my treatment. I always leave with a smile and in better condition than when I entered. Diane G.
Personable And Attentive
The doctors and staff are personable and attentive. They relate personally and professionally. Community Chiropractic Care is a health promoting environment with competent, trustworthy medical professionals and staff who make obvious efforts towards their patient's well being. I have greatly appreciated the experience of working with these fine folks. Dimitrius G.
Thankful
I have some lower back pain on both sides, along with arthritis. Both doctors have helped tremendously with adjustments to my lower back and neck. Thanks to them I am able to drive my car a longer distance. Joseph V.
Great Experience
Great experience. Doctors explained the treatment they recommended to eliminate my back pain based on my initial evaluation. Dr. McEvoy and Dr. Brown were excellent in reducing my back pain from the first visit. Office staff is very attentive to each patient and office is very clean, appointments are on time and professional. I highly recommend Community Chiropractic Care. Robert B.
Follow Up Phone Calls
I feel very comfortable with trusting Dr. McEvoy. He contacted me on numerous occasions on his own time to see how I was doing. I don't know of any other doctors that do that. He's also honest and I appreciate that. James S.
Great Chiropractor
Dr. McEvoy is a great chiropractor and I would recommend him to all of my friends. He really listens and tries to help you as much as he can. I had mid back pain and with his help, it is practically gone! Not only is he a great chiropractor, but also he is a genuinely good person and very confident with his chiropractic skills. Christian A.
Pleasant, Personable and Professional
Having worked with Dr. McEvoy in the past for my back, there was no question in my mind I would seek him out again. The entire staff is amazing! They are pleasant, personable and professional. Dr. Brown inquires about my status and treats me when Dr. McEvoy is occupied. No words can describe the total care that Dr. McEvoy offers. He is skillful, patient, understanding and very professional. I always leave with a smile and in better condition than when I arrived! Diane G.