At Community Chiropractic Care, our patients range from construction workers to a stay at home mother of four. We treat many children as well as elderly patients. So whether you've been in a car accident, had a work injury or looking to improve your overall wellness, we would love the opportunity to show you how we can decrease your pain and improve your life.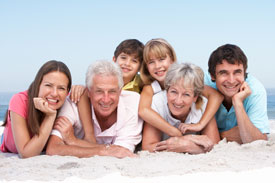 Why the Spine?
Just like gears in a watch, bicycle or any other machine, there are many moving parts which make up your spine and these moving parts must be kept aligned in order to function properly. In order for your brain to communicate efficiently with every part of your body it must first make it through the spinal canal. This is another reason to maintain an aligned spine.
Giving You Back Full Function
By removing any interference, we restore and increase the proper flow of information between your brain and your body.
Many people think that chiropractic care is only suited to those in pain, and is only necessary for as long as it takes to get out of pain. Receiving regular chiropractic adjustments will ensure you keep your spine and nervous system healthy. Wellness is a proactive decision.
We'd love to meet you and answer your questions. Give Community Chiropractic Care a call today!